"What's Castlebay all about? -- Seafaring, the darkness and lightness of the coast of Maine, the rhythm of the tides"
-- Peter Spectre, marine author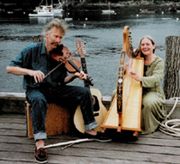 Castlebay treats an audience to a musical journey through time and across the Atlantic as they interweave timeless songs, spritely dance tunes, and haunting aires inspired by the spirit of our rich nautical and Celtic heritage. Exuberant vocals are supported with Julia Lane's unique self-taught, award-winning Celtic harp style, and Fred Gosbee's expertise on 12-string guitar, violin and woodwinds. Their deep appreciation for the unique character of their home state of Maine, as well as the Celtic lands, Castlebay blends history, legend and experience into their personable performance style.
Since 1984 Fred Gosbee and Julia Lane have created a body of work which celebrates Maine's maritime heritage and environment. Known for their arrangements of traditional music, they have also received critical praise for their evocative original compositions; Gosbee for his finely crafted narrative ballads and Lane for her imagery and beautiful melodies.
Castlebay has frequently appeared at sea music festivals in both the United States and Europe They have shared their songs and stories on concert stages from Nova Scotia to Florida where they have delighted audiences of all ages.
Together, Lane and Gosbee have written, recorded and produced two albums of original music, Song of the Sea and The Ballad of Cappy John . These songs depict the lives of those who live by the sea, not only the deep water sailors, but also the shipwrights, coasters, fisherman and their wives. These are the people who established Maine as a maritime legend and who continue to build that legend with their daily lives of skill, hard work and pride.
In 2006 they released a live concert recording of maritime songs, Islands In Time. This CD was recorded in several venues from Maine to North Carolina between 2004 and 2006.
Castlebay tours throughout the year. Bring a taste of Maine to your locale! For up to date information on our schedule, travel plans, and fees please contact us.
May there always be safe haven from the storm
May the sun glow softly on your skin
May the stars shine bright
May the dawn come clear
May you always run before the wind
                         from Run Before the Wind©Julia Lane
The Mackerel Jig/Out on the Ocean
Newsletter and concert summary
We're scheduled to be on the lawn. If it's too hot or raining we'll relocate to the library meeting room.
We will be doing several presentations at the conference. Friday is a short introduction to our presentations. Saturday at 10:00am we will be doing an introduction to sea music, which will include both work songs and off-watch songs, along with a bit of history. Saturday at 1:30 pm we'll be leading a hands-on rope pull with proper sea shanties. Saturday at 3:30 pm we'll be doing a concert of maritime music. Sunday at 10:00 am will be more maritime songs. Space is limited. If you want to come, you should make reservations soon. The program fee is $100. Accommodation runs from $390 -$943
This concert was rescheduled from May 2020. We'll be doing some songs from the archives and some from our research into the archives.
Tickets at the door: $25 ($20 members, $10 students 12 - 22, $5 children 11 and under). Ample free parking. Tickets are available at the door; No advance sale is available.