Songs of Ships & Sailors
Compiled, Edited, and Transcribed by Julia Lane & Fred Gosbee
Over 160 historical sea songs from Maine with lyrics, melodies, and historic notes.
These songs , drawn from field recordings and archives of Maine singers and collectors, tell powerful stories of sailing, fishing, storms, shipwrecks, piracy, sea battles, and loved ones left at home. The detailed notes, bibliography, and source index make this an invaluable resource for scholars.
 You can hear midi files of all the melodies at this link: http://castlebaycds.com/bygone_ballads_1_sound.html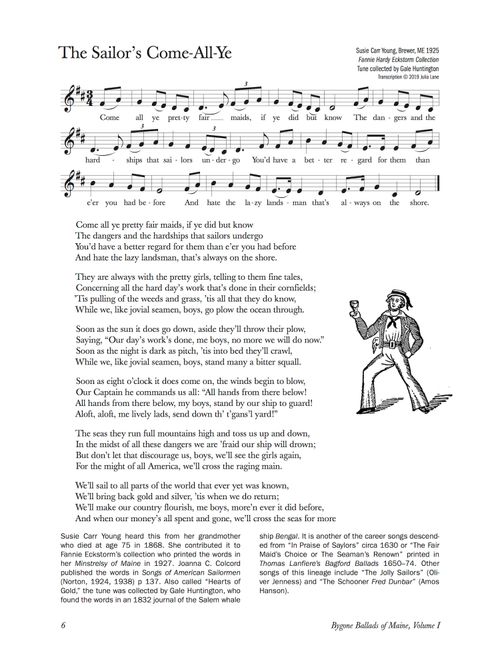 Designed with singers in mind
This 300 page book is a treasure for musicians with melodies, complete lyrics, and historical background for every song.
"Not since Joanna Colcord published Roll and Go in 1924 have we seen such a comprehensive compilation of songs from the sea as this one.
 
This is a book that will be a treasure to singers, but also to folklorists, ballad scholars and historians.
 
" What a gold mine of material! Every Maine music teacher must have a copy! Send one to the teacher nearest you! Julia Lane and Fred Gosbee have managed to corral an exhaustive list of songs into a volume that's readable and user-friendly."


—Pauleena MacDougall, Ph.D.
Former director Maine Folklife Center, author & editor 
Other Reviews
"A profoundly significant and scholarly contribution to the world of folk song, this book should be read by anyone who is interested in the traditional music of rural America. In-depth and clearly presented, these Anglo European folk songs are expertly collected, written and exhibited by folk singers and researchers Julia Lane and Fred Gosbee. This book exhibits a treasure trove of painstakingly collected folk songs that have migrated from Anglo Europe to Maine. The song examples are artfully presented and shown in the context of the culture from which they come."
 —Stuart P. Gillespie Jr.
Composer, choral director
Maritime Historian and singer at Mystic Seaport (1972–85)
"One of the very best books on historic songs of the sea. There are many such books, but few achieve such a high level throughout, with such attention to musical detail and such precise writing. The lengthy introduction itself is invaluable to anyone interested in historic music, the sea, and Maine."
—Stephen Sanfilippo, Ph.D., Maritime History
Educator, performer, author & editor
"[This book is] the result of extraordinary detailed transcribing and deciphering of songs rescued from obscurity in an all but forgotten archive. The songs are then illuminated by Julia and Fred's long, deep study of the music and history of the state of Maine and the British Isles… It is filled with surprises and delights. I know it will certainly delight lovers of music and of Maine."
 —Van Reid
Award-winning author
Creator of The Moosepath League, Viking Press
"Not only does the layout look entirely professional, the illustrations are delightful, and the list of songs includes so many that are unfamiliar. One gets so tired of finding the same songs collected over and over again. 
Clearly reflects a huge commitment of time, love and dedication! Top notch all the way. 
I'll look forward to spending more time with these."
—William Pint & Felicia Dale
Musicians, Flying Fish Recording artists